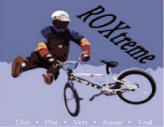 I
nterested?
So you are looking for more details...
We are finalizing the structure for Roxtreme now and we could use YOUR help!
Venue - Local bands, occasionally touring acts.

Ride Park - Bikes now, boards and blades late.
Roxtreme is in Northern Franklin County, PA. Roxbury, specifically. See the contact page for the address and the park map on this page for more details and directions, etc..
Roxtreme - the ride park - is FREE. At least we are starting FREE and have every intention of continuing free - generating funds via other means such as donations, fundraisers, and related commercial ventures. All Roxtreme shows will have a suggested donation that goes directly to the artists and bands.
Roxtreme is user/rider built. As much as possible we want the riders to be the track and jump builders, as well as the source for many of the future ideas. The same principle holds true for the venue, artist directed, built and maintained.
Roxtreme is fun! If you like riding you will love Roxtreme! If you like local bands you'll love Roxtreme!
Roxtreme is work. Riders will also have some responsibilities. From fun stuff like track maintenance to mundane stuff like picking up trash and branches.
Roxtreme is for you, young or old. We plan on no age restrictions. The only people we will plan on restricting are those who cannot abide by the rules. We may have certain times for certain ages, or more likely, skill levels.
Roxtreme is safe. We will not knowingly allow anyone to harass or tease other riders.
Roxtreme is dangerous. Biking and skating, especially with big air involved, is dangerous. You will likely get hurt occasionally. Hopefully you will have small injuries, but by nature extreme sports can lead to extreme injuries. Ride based on YOUR skill level.
Roxtreme is a Christ-centered, ministry-based outreach, but it will not be church and is not meant to replace church.
Roxtreme is independent. We are still trying to figure out what the legal structure [very likely 501(c)(3)] of Roxtreme will be, but we will be functionally separate from your church or my church. What this means is Roxtreme does not exist to direct anyone to one particular church. We want to point people to God's unbelievable saving grace and with that relationship people should find their way to the nearest church that preaches and lives the truth.
Roxtreme is becoming...
Go to the Contact Page and email us if you want to know more about Roxtreme or if you have any questions or ideas.
MEANWHILE....
A
bout

R

oxtreme

The concept of Roxtreme is unique. We do not know of another facility quite like it, although there are many similar places.

What is the difference? What makes it unique?

Well, a cool blend of extreme sports and a outdoor (to start with) venue are the first components. Then factor in a place where you can be yourself and make real friends and you have the start of something exciting.

There are more plans... Curious, come out and ride or come and help.

Read Why

Read more about Why we feel Roxtreme needs to keep being developed by going to the why or why2 pages.