Musician Centric ● Local Focused ● No Comparison
BMX Dirt Track...
Mountain Bike Trails...
Bike Jumps and lots of Dirt...
Freeride Mountain Bike course...
Pump Track for BMX & MTN bikes...
AND, eventually TONS of cool ramps*...
for bikes, skate boards, roller blades and more.
Our venue is up and running! Absolute great times!
Visit this site often to learn more and keep updated with what is going on.

Or go to the about page for some more info and details about what's happening. Will You Help?
Roxtreme is a work in progress. We are rider built and artist built... So come out and ride and help with the track, jumps and ramps! Currently, mostly bikes. We need pavement... asphalt, concrete, etc...
---

Free Wi-Fi

Our Wi-Fi is free and open and available through-out most of the open portion of Roxtreme and on the hill by the venue and stage area.
What IS Roxtreme?
An outdoor venue for shows & music.
Live and Local!
A place to ride. To hang out and to just be... You.
Do you ride a bike, a skateboard or roller blade? How about a scooter on a 6 foot quarter pipe?
Are you interested in having someplace you can come that has an extreme attitude, yet everyone seems to look out for each other.
These are some of the characteristics we are striving for at Roxtreme.
Venue Testimonials!
Do you want to help?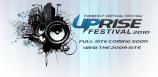 Click Here to learn about a major Local Festival with both Local and National artists! Uprise Festival! (August 7, 2010)
Are you an artist looking for a venue to play?